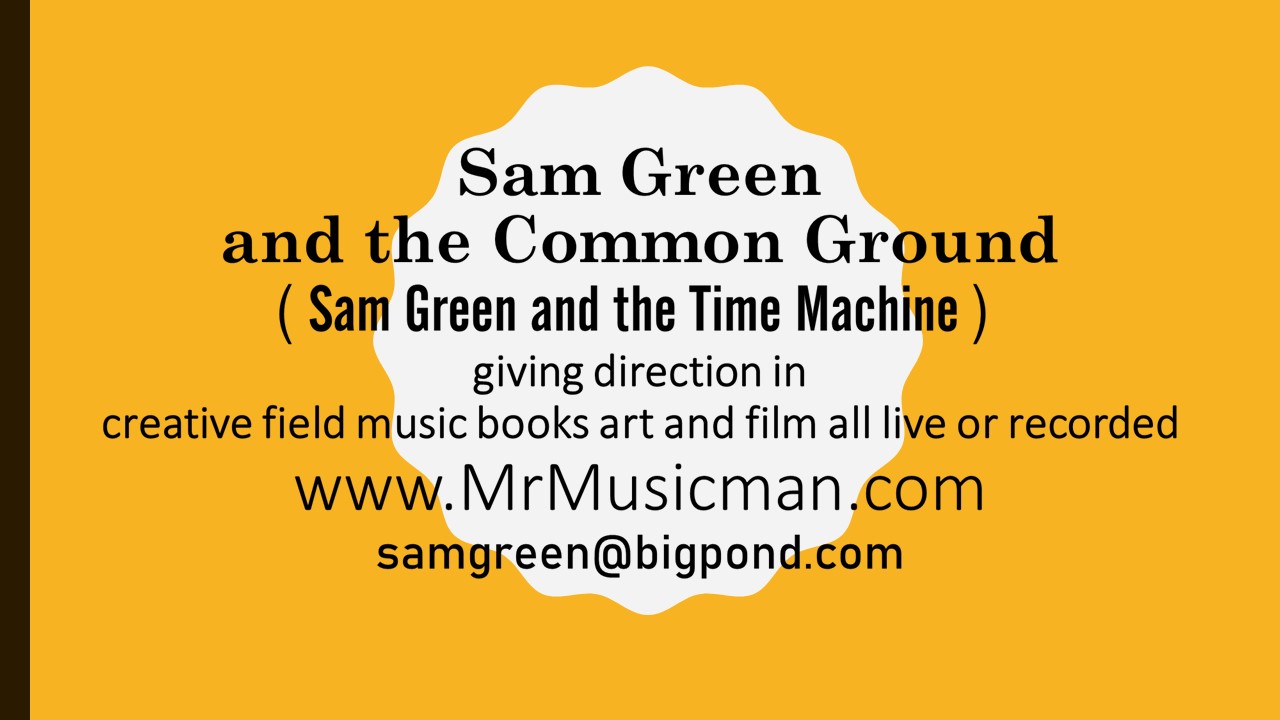 Sam Green & the Time Machine( Common Ground )
Please wait for Featured Video connecting: Love Is?
Each week there is an update another clip called Green Bits.
This is a reflective few words in poetic form
Sharing, reflecting, and being in the format of a few minutes
And a way to relate. In the joy of it all.
If wishing to make contact, contact details are on this site .
Sam Green would be happy to answer, if he can
 Sam Green and his music as well as his books is in the system  listed under Sam Green and the Time Machine, mainly through Amazon and is accessible from spotify google  facebook apple music, iTunes, youtube, cdbaby, through media release through out. Listed and accessible, to radio tv too.

*PLEASE NOTE ALL PRICES INCLUDE FREE POSTAGE THAT MEAN I TAKE IT TO THE POST OFFICE free BUT YOU MUST PAY mail out price of that AMOUNT  OF HOW YOU WISH DELIVERED you can pick up at my office or pay postage and insurance..THE UNIT PRICE FOR GOODS is IT THAT PRINTED but not postage, Australian postage has gone up.  SORRY CAN NOT GET IN TO THAT PART OF THE WEB SITE TO CHANGE that. NOWDAYS ALL POST are through Australian Post service Ask me THAT POSTAGE TO YOU. MODERN WORLD  BE KIND to our WORLD GIVE AND TAKE. ONE WORLD must be FREE to a world thanks forhelping make a living.We are a small human business with a heart trying our best, make contact we will serve you and do it right. samgreen@bigpond.com  attention to Sam.
---
About release of these books