CHEERS To my friends followers family and cousins all around the world. All my books and music is listed in three different name placements Sam Green, Sam Green and the Time Machine as well as Sam Green and the Common Ground l have 12 books and 33 albums on amazon much on outlets around the globe and little royalties due to modern times. If you like what l do, please organize a concert or happening of my music. my fees are low. Heaven knows its our world we live in, and we share. make it a better world For the world and ourselves. Be kind to your World and the world around. Money raised goes in to hiring the right people to get the music moving together for better in a positive world light. Looking forward to networking as well as to the updating business equipment and printing books usb film and music as i do. So please buy my products as well, pay for performance and let us talk the talk so we can walk the walk. Ring me on 0412564404 in Australia leave a message we will get back or e mail saying attention store and we will get back to you. Only the best in time be it in harmony and peace as well. Contact details has it all my address e mail and phone number. Should you wish in the ways of harmony count us all in. You can book me Sam from booking and making an appointment to talk. Remember its for you I leave my world too, be strong, be happy, be healthy and long life. Green Bits is half way down the page if you look.
Click here for bookings by visiting the page

Book using the Gig Heaven
gigheaven Click Here
Download the Sample Songs From here in store
Click Here
Download the Free Books from here For limited time only
Click Here
Sam Green Live book a head. Work is work, will be honour the work I do.
Long life and health happiness and music for the soul to sing listen and dance the dance of life. TO LIFE
Music Book available from author at office or post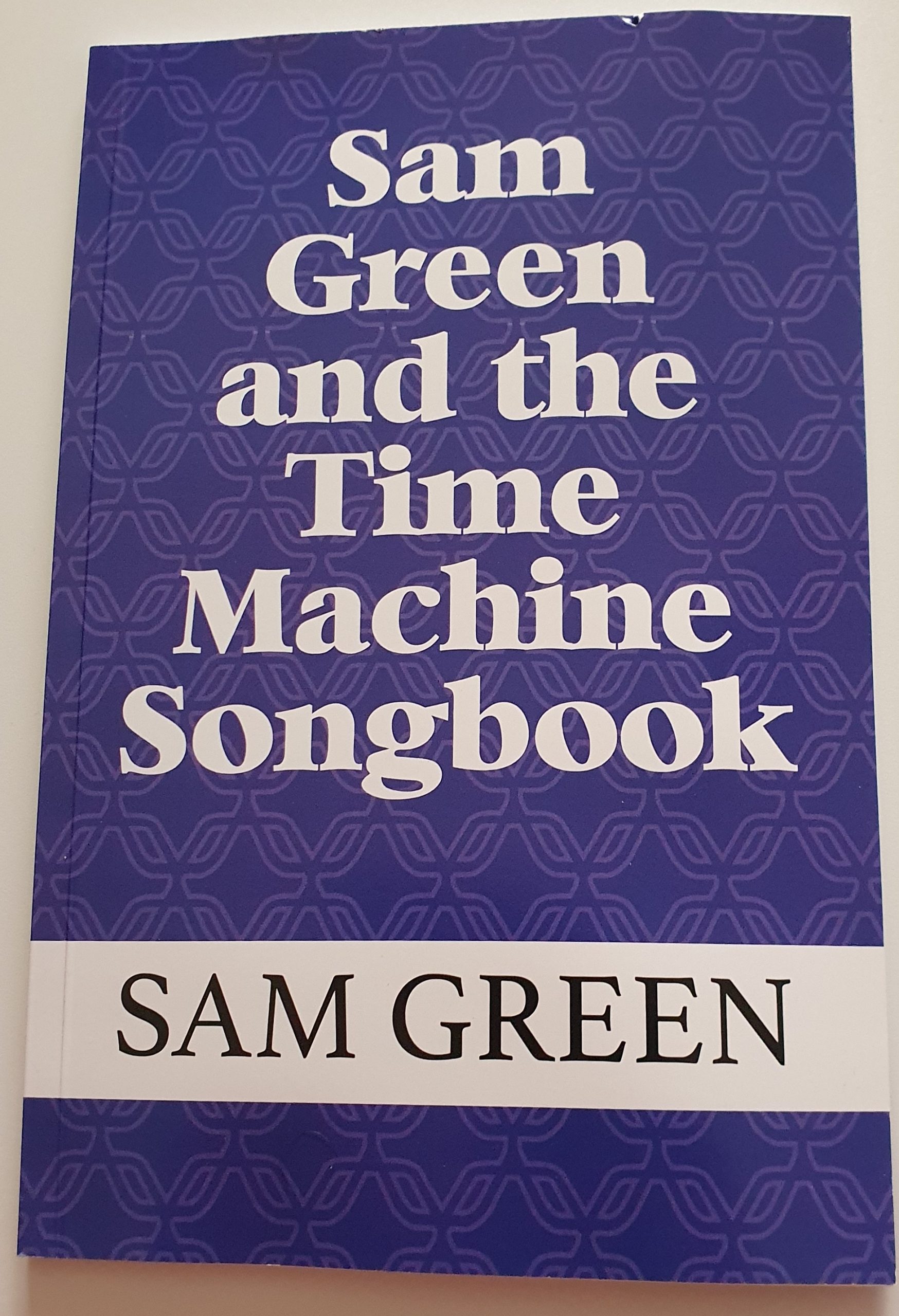 Looking for a Music Books!! Here it is!! In the office to send to you!!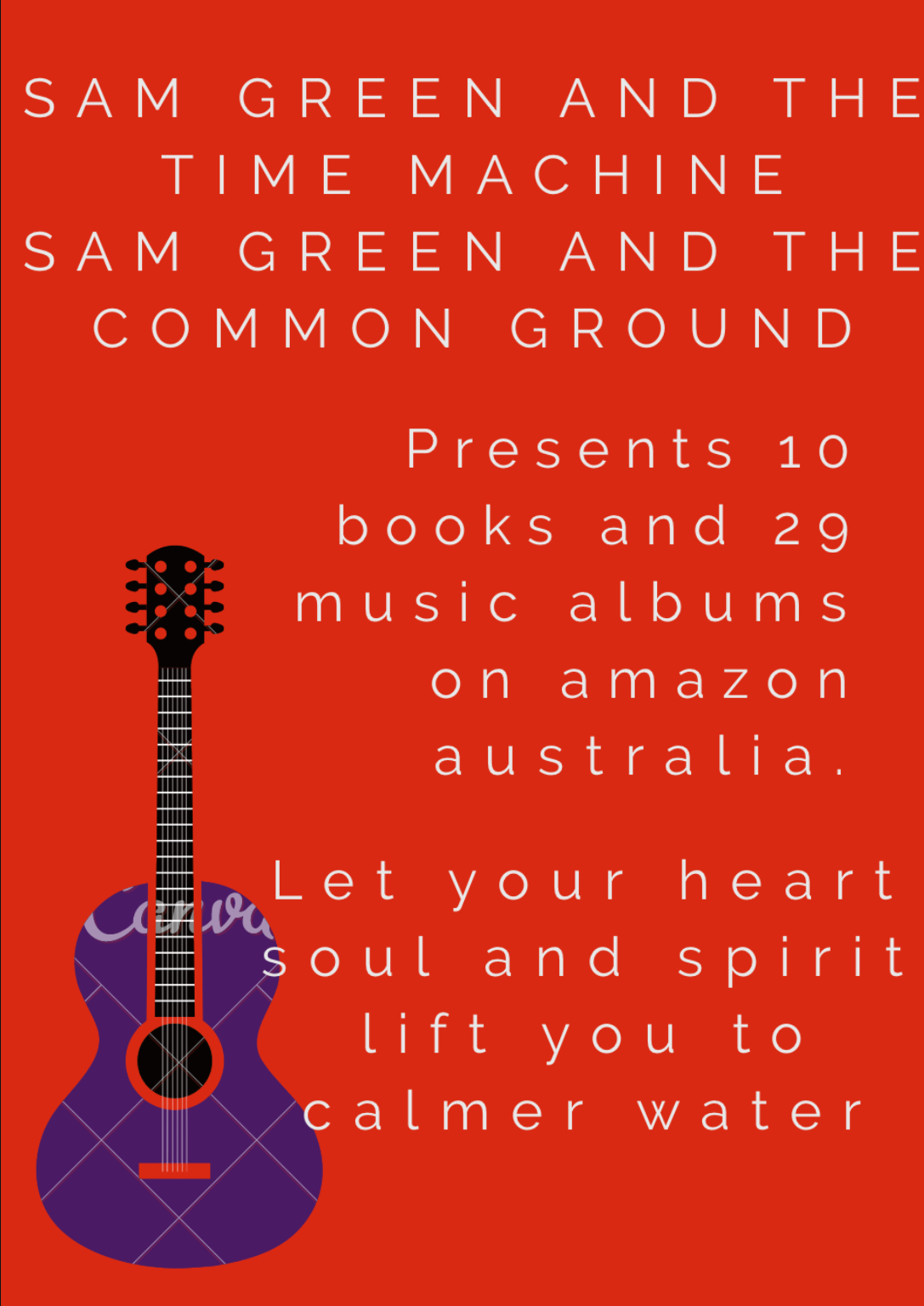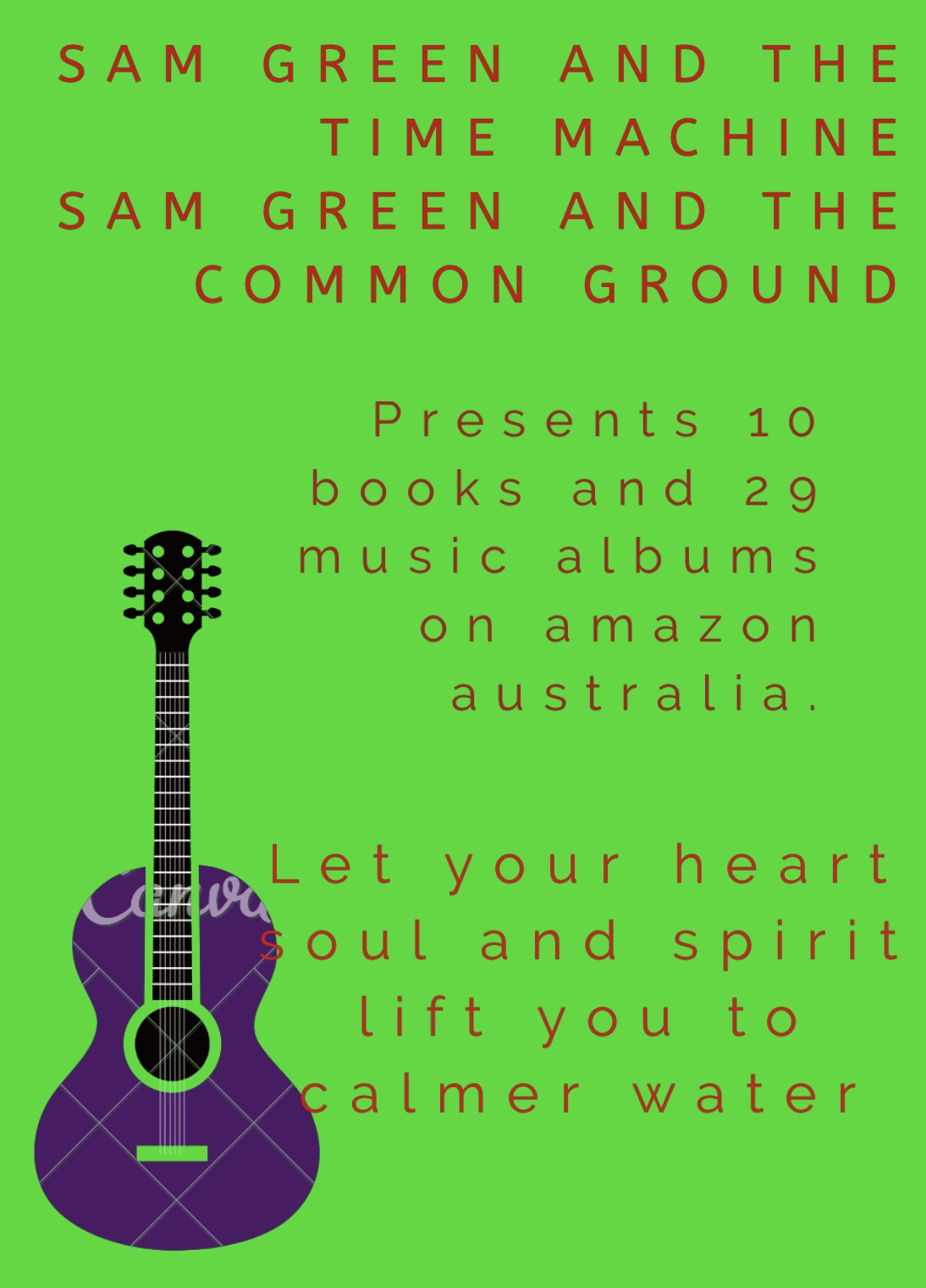 Sam Green Beautiful Sayings in words and Music, about Life and World
Colour my world with Sam Green in music words films and art
Sam Green says I hope that love will find you

POEM OF THE WEEK BY SAM
A white rose in its name
Would not be as beautiful
As a white dove in flight
Of tender years
A slave in which I be
To reflect upon beauty
Wishing only to touch
Running hands through
A hairline in the sun
To walk by sounds of crashing waves
Washing more and more
A white rose in its name
Would not be as beautiful
Such as in this peace
I can remember, that I remember
In loving of those eyes
Heart beating
To the rhythm as a clock
This world we share
If only I could tell
Beauty holds its cup
In love with the arms of life
SAM GREEN (C.)2007

Green Bits

Looking for something special we are here to do and grab workload right for you on time.We have the know-how. We are in designing of web sites To do it right at down to earth prices. Then we give you the keys so you can drive your web site. Not many do that. Win win. We are here for you. Ring Sam 0412564404 during working hours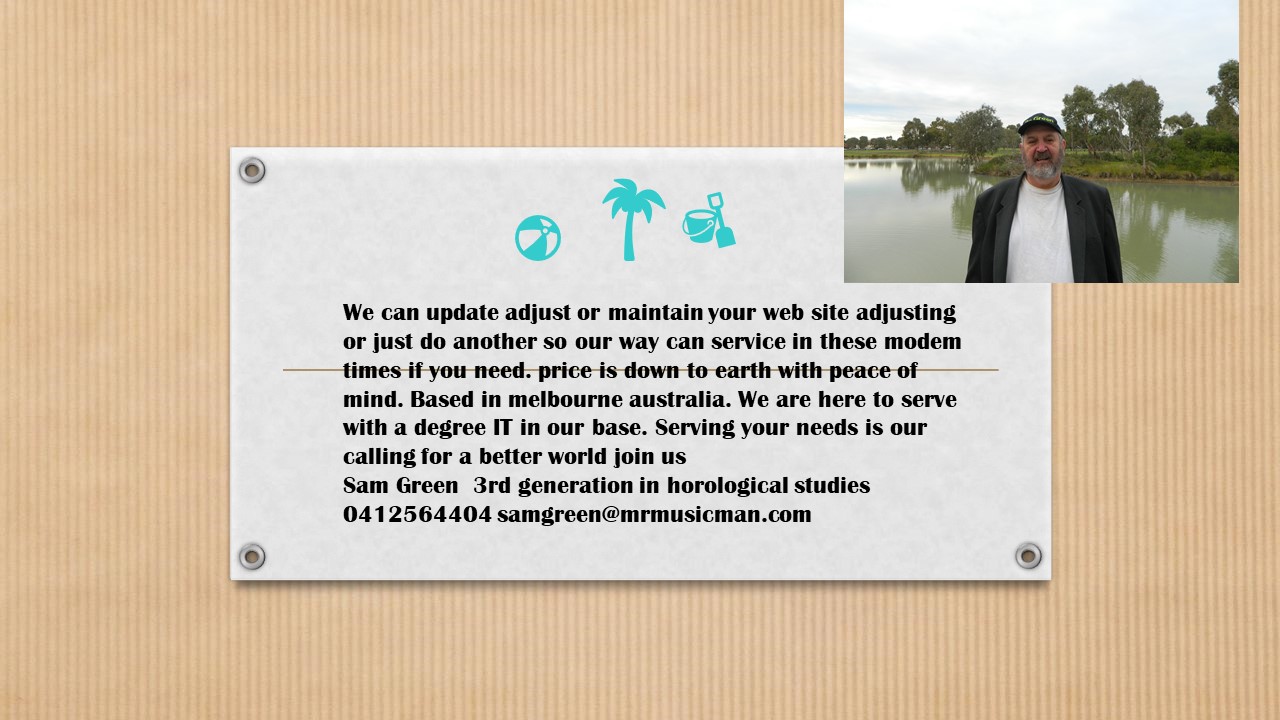 Connect, for private concert ring connect direct. We can work it out. Sam Green international +61412564404 LEAVE MESSAGE AND NUMBER WILL GET BACK
Melbourne singer-songwriter-artist Sam Green, who was born in this world, does like to be a part of a community and/or part of a creative production company.
Call me, Sam Green direct or go through a booking agent on this Australian number +61 ( 0 ) 412 564 404.
Green bits the video is further down the page.
TERMS CONDITIONS and LIKINGS:
Sam needs a positive mind association and promotion just to get things right.
For a one-hour show and one hour setting up. Confirmation of the booking date is required. I have insurance, and, if you have insurance, there will be no problem. Let us make a happy happening.
I can write arrange with art work cover and release any song which you may want to your technical specs wav data file mp4 mp3 or current format and can all so do GREAT video clips. I can film and edit, too included mostly. Let's discuss using your script or mine (negotiable). I can write a new book, if you like my twisted of phrase. It's not quirky, ain't it? Can deliever.
Conditions currently apply if a performance is outside Melbourne metropolitan area.
For more details get the catalogue. Look down the page where it says JOIN and click the green writing to download a PDF file.
I will be happy to talk to you about a concert or project. Many of my books, films and music are online under Sam Green and the Time Machine, and Sam Green and the Common Ground , Amazon, Spotify and other outlets. Love Google, and they love me.
Be Green, Be Wise, Be Healthy, look after your well being. For any services you need, contact me by phone in working hours on +61 0412 564 404. if new e mail for an appointment.
Currently broadcasting as a DJ from Melbourne, Australia, where I am an announcer on J-AIR radio (88FM) and have a weekly program each Sunday at 9pm to 10pm.
If you ask for help, you know you can trust together as one.
Australia is the place to visit if you cannot stay in time, visit enjoy
The words to speak in truth. We are all doing fine.
Call +61 ( 0 )412 564 404
Office hours here are:
Monday to Friday 9.30 am to 5 pm
All times Australian eastern. (We are sorry for any inconvenience if you're calling from overseas.) Check google for Melbourne Australian time.
Contact us
If you wish to reach us just send an email to samgreen@bigpond.com